I bailed on a race on Sunday. Thoroughly and completely. My 2 mile runs for the last two weeks have been abysmal and because running is such a mental game, I was afraid I would take too long to get over finishing in the bottom 10 people again and my training would get off to a lackluster start. Sunday's race was 5 miles. 5k I would have slogged through. But 5 miles was too much. Going through the week, I was trying to psych myself up for it. I was racing with a lot of friends and I didn't want to be a quitter in front of all of them. Last Thursday I tried to run 3 miles. I ran 1.6. I was at the gym with Jennie who is healing from injury (like a boss, I might add) and was biking. I walked over to where she was. She took one look at my face and asked "shit show?". And I said "The shittiest of shit shows." So she told me to get my butt on the bike and sweat it out. Pulling out my best insolent teenager act, I sat and pouted through 30 minutes. The next day Jennie emailed and basically told me that no one would judge if I didn't run. And if it ruined my mental game that would be bad. I was still on the fence and finally decided Sunday morning I wouldn't run, I would spectate. Still I left the house very slowly and didn't get over there until the race was over. I was pretty upset over the whole day – wishing I was one of the runners – and very nearly regretted going. But once I found my people and just hung out, it was worth the trip over. I was upset enough that I really didn't take pictures. Promise it happened.
That red mark is going to sit there until early November, staring at me. Reminding me that when I say I'm going to train I should just suck it up and for the love of Christmas just get out there. Based on all this, I made a decision to step back a couple weeks in my training. I swore I wouldn't move around workouts, but I think it's totally fine to move back in the program. Because if I'm about to survive 5 months of training it has to be fun (at least sometimes – occasional bad runs are inevitable). Last year after my back stopped hurting and I started up training again I started too far into the training and it wasn't fun. Every run. For almost three months. I've got the time in my schedule. Really I cut into the 5 week gap I had in the middle and put two more weeks at a shorter interval at the front. I think I did the right thing. I think I'll enjoy these runs and they'll give me the training kick in the butt I need to make LA the funnest fun it can be.
There's the week. And the damn red mark. But look at all the green!
I had my first park-at-Herter-Park-and-run-along-the-Charles runs of the season. Really I should just keep running through the winter but I was in such an epic funk this winter that I didn't. I will say this. I forgot how freakin' high those bridges climb! And how tiny they look on RunKeeper after. I promise you they feel eternally uphill huge. Despite that, it was still nice to be back out there. Cool down stretches, however, were a challenge. The Canadian geese are migrating back north and are pooping near every. single. waterway. Trunk blanket to he rescue! Can we talk about how magical it is that my trunk supplies are now a blanket, sweatshirt, and beach chair instead of a shovel, snow brush, and bigger snow brush? All the magical.
Side note on this amazing weather. I talk a lot about hating the cold, but Boston this weekend? I can't even begin to describe how unicorn rainbow sprinkles on top fabulous it was. Saturday I went to meet some family visiting from Michigan and walking down the Comm. Ave median park under trees with bright green new leaves and fading flower buds under an almost painfully blue sky was something I'll look back at next January. Theoretically. I'll probably still swear a lot. My love for the John Hancock Tower knows no bounds. And so I take a lot of pictures of it. But look. Look at that blue sky!!
Ok. Back to running. Last week I was mad. I left my Garmin charging all day but when I went to use it the next day, the battery was dead. I brought it to work to charge Monday and after having it plugged in for an hour I checked – still "low battery" I had noticed some black on the back of it but I had figured it was dirt. Turns out if you write on your arm and then put your watch on and then sweat/have 1500 cups of water spilled on you (ooh. I still owe a how-to-work-a-marathon-water-stop-in-a-million-easy-steps post) the marker smudges and effs up the contacts on the watch. Luckily for me, I work with science! and we have alcohol wipes left, right, and center. A quick clean up and problem solved.
After my pretty good run I had allllll the energy and did some laundry, finally washing all my running clothes at once instead of sneaking them in loads here and there. I know that can be bad for the fabrics but I HATE laundry and thinking anything about it was too much. I'm trying to take better care of my things and not just shove all these tech fabrics into the dryer. Problem: I don't have a drying rack. Solution? Make one. Any tool can be the right tool (that's a throw back to my childhood watching the Red Green Show with step dad John). Right now my clothes are drying on a) my reconditioned steamer trunk (thanks John!) b) the bendable arm of my standing light c) the thumb switch of said light d) my towel and bathrobe hooks e) the top of my empty (thanks to runner's energy cleaning) trashcan f) a rolled up and stood on its end yoga mat g) my pop-up tail gating tent (packed up into its bag thingy) and the pièce de résistance h) a ski pole. I was like Oprah and my clothes were free cars.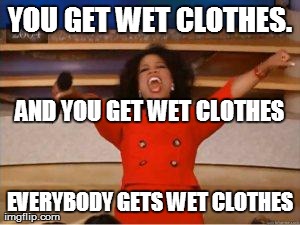 Methinks it's time for a trip to the Tar-jay.
Just 12 hours later; le sigh. I have committed to not packing a gym bag in the morning because I always end up at the gym at work with no post workout non sweaty underwear or un-moused hair or no work shoes. Despite being sleepy and wanting my bed real real bad Monday night, I packed a bag. Tuesday morning I kicked my workout's ass. I mean, after I was done with it, it wasn't even recognizable to its mother. And after a good run on Monday I was riding a sweet sweet high. A high that came crashing down when I discovered I had no shampoo or soap. So I turned on the shower and then holding my towel with one hand, I fill the other with the foamy hand soap from the sinks (glamorous!) and then getting in the shower, held that hand above me while I rinsed off and then soaped up. There was no WAY I was putting that in my curls, so my hair just got wet and then went to work dirty. I've been doing this workout before work thing almost a whole year. I have a toiletry bag I keep in my gym bag. And even before that, I did this occasionally. So WTH?? In my defence, I changed bags for the summer and forgot to move it. Still. Total and complete #epicfail . This also explains the extra shot coffee that made it's way to Instagram this week. Because sometimes – lots of coffee.
Hearts and I don't know, random stuff